FAQ – Frequently Asked Questions
Home

FAQ – Frequently Asked Questions
Can 1st Response AC and Heating Provide HVAC Service to My Business?
If your business is located in the Dallas/Fort Worth area, we will be happy to serve you in all of your heating, air conditioning, and indoor air quality needs. Whether you are in need of new system installations, maintenance, or repairs, we are here for you. Give us a call today and set up an appointment for a consultation.
How Long Should My Heating and Air Conditioning Unit Last?
A typical air conditioner should last 8 – 12 years. At 1st Response AC and Heating, we are proud of all of the brands we carry. If you purchase a Trane air conditioner or furnace from us and take advantage of our service agreement to keep it maintained, you can expect to see several more years of good service than that.
What Does 1st Response AC and Heating's Service Agreement Include?
If you opt to purchase our service agreement, you will receive an air conditioner tune-up in the spring and a heating system tune-up in the fall. You will also receive 10% off of all repair services you may need. You will also receive first priority calls on any service requests throughout the year.
Our air conditioning inspection includes:
Cleaning the condenser
Checking air filters
Checking the amps on the compressor
Checking the amps on the fan and blower motors
Checking capacitors
Checking relays
Checking contractors
Checking pressure switches
Checking circuit boards
Checking electrical connections
Checking superheat
Checking subcool
Checking refrigerant pressures
Checking temperature differences
Inspecting the evaporator coil
Checking drain lines and the drain pan
Checking for air leaks
Our heating inspection for gas heaters includes:
Checking the clean flame sensor
Inspecting the heat exchanger for cracks
Inspecting burners and orifices
Checking inlet and outlet fuel pressure at the gas valve
Checking voltage
Checking amp draws on the draft motor, hot surface igniter, gas valve, and blower motor
Checking capacitors
Checking relays
Checking the limit and safety switches
Checking the thermocouple
Checking the flue
Checking for carbon monoxide
Testing the control boards
Our heating inspection for electric heat and heat pumps includes:
Checking amps on the compressor, fan motor, and blower motor
Checking amps on the heating elements
Checking voltage
Testing the control boards
Checking the limit and temperature switches
Checking relays and sequencers
Checking the capacitors
Checking all electrical connections
Rinsing down the heat pump coil
Checking the refrigerant pressures
Checking the force into the defrost
How often should I change my air filters?
How often you need to change your air filters depends on the type of filters you have. 1-inch thick filters, which are the most common, should be changed once a month. If you have 4- or 5-inch thick filters, you can wait 3-6 months to change them. However, you should check them every month to make sure that they are not dirty and need to be replaced. Dirty filters create restricted air flow, which makes the whole system work harder.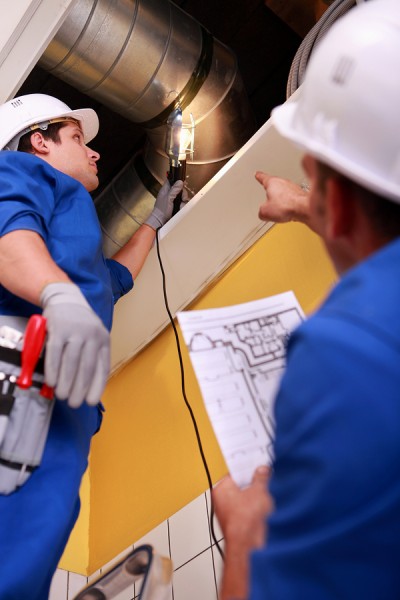 Why Does Water Come Out of the Pipe on the Eave of My House?
If you're noticing water discharging from this pipe, it means that the primary drain is clogged, and water is going into the secondary drain pan, then draining out of the side of the house. If this is happening, the drain pan can overflow or rust through and cause damage to your ceiling.
Why Do I Keep Having to Add Refrigerant to My System?
If you have to add refrigerant, that means there is a leak somewhere in the system. A sealed system will maintain the same refrigerant level without the need to replenish it. In most cases, the problem is in the evaporator coil, which will need to be replaced If this is happening, give us a call so that we can diagnose the leak and recommend options to repair your system.
Why Won't My Air Conditioner Keep Up During the Heat of the Day?
This is almost always a case of poor maintenance. Your air filters and/or air condenser coil may be dirty. Your refrigerant may be low, your outdoor unit could be short cycling, or there could be a problem elsewhere in the system. Call us ASAP, and we'll diagnose the problem and give you recommendations for repairing or replacing your system.
A building's R-value is the value assigned to denote how resistant its insulation is to heat transfer. Low R-values mean that a building can gain or lose heat very easily and that it has poor insulation. Higher R-values are good for your energy savings and for your building's resale value.
SEER stands for Seasonal Energy Efficiency Ratio, and it is the measurement of how efficiently your air conditioner or heat pump functions. Higher SEER ratings are always better, and new systems should have at least a rating of 13, if not higher.